The Pawalgarh Conservation Reserve (PCR), located in the hill state of Uttarakhand, derives its name from the village Pawalgarh situated in the foothills of Nainital District. Pawalgarh, home to some marvelous forests, became famous after the publication of the story Bachelor of Powalgarh in the book Maneaters of Kumaon published by the legendary hunter-turned-conservationist, Jim Corbett, in 1944. Nicknamed the Bachelor of Powalgarh the tiger was the largest ever hunted by Jim Corbett, and took over a decade to hunt. It was finally shot in 1930.
Pawalgarh was the site of the 2nd Uttarakhand Spring Bird Festival held between 4 to 8 February 2015. More about Uttarakhand's Spring Bird Festivals (USBF) can be seen at http://www.uttarakhandbirdfestival.in.
Pawalgarh Conservation Reserve-A Fact File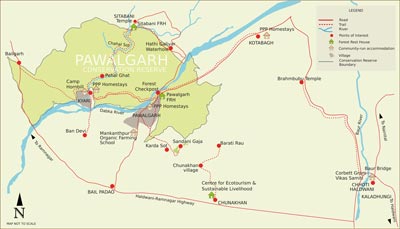 | | |
| --- | --- |
| Protected Area status | Conservation Reserve |
| Notified | 14 December 2012 |
| Area | 58.25 sq. km. |
| Altitude | 300 to 700 msl |
| Average annual rainfall | 1,500 mm |
| Min-Max Temperature | 2 °C to 43 °C |
| Habitat | Lying mostly in the Bhabhar belt, Pawalgarh has primary and secondary growth of tropical forest in riverine and low altitude montane terrain. |
| Best time to visit for birds | October to March |
| Best time to visit for butterflies | April to June, September to November |
Pawalgarh's biodiversity
137 species of trees, 58 species of shrubs and 27 species of climbers, 52 species of herbs and 71 species of grasses & bamboos.
More than 125 species of butterflies - Spot Swordtail, Spangled Plushblue, Peacock Royal, Redspot, Copper Flash and Baronet to name a few. Download the Checklist of Butterflies of Pawalgarh
Over a 100 species of moths with many more still to be identified.
32 species of mammals - tiger, elephant, leopard, leopard cat, jungle cat and ghoral are just some of the mammals seen here.
365 species of birds - Ibisbill, Great Slaty Woodpecker (and 15 other species of woodpeckers), Red-breasted Parakeet, Green-billed Malkoha, Common Green Magpie, Ashy-headed Green Pigeon, Nepal Wren Babbler, Hooded Pitta, Long-tailed Broadbill, White-bellied Erpornis and White-rumped Needletail are some of the bird specials. Download the Checklist of Birds of Pawalgarh
Visit Pawalgarh's Photo Gallery to see some of its floral and faunal specials.